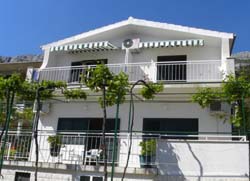 Welcome to our website!
House Boženka is located near the sea. There are three apartments on the first floor and a comfortable 4-room flat on the ground floor. The apartments have a balcony, while the flat has a large terrace with the sea view. They are all completely equipped (including dishes, linen, towels and blankets). The house offers a grill in the garden, and in front of the house there is a parking place reserved for you. From our side we will do our best to make your stay here a true vacation and a relaxation away from the everyday rhytm and obligations.
Dear visitor,
welcome to "House Boženka". We are very pleased that you have decided to visit our webpage and see for yourself all the attractions and the beauty of our region and a small dalmatian village there, called Pisak.
We also hope you will enjoy the accommodation that we offer. Here you can experience the magic of the Mediterranean through sights, smells and tastes of Dalmatia and Croatia, here you can swim in an ecologically clean sea and truly get rested in a pleasant environment of our house.
Aunt Boženka has been working in tourism since the early 60's and, using her experience, we will do our best to make you feel at home.
The house is located in a beautiful corner of the middle Dalmatia, roughly halfway between Split and Makarska. It offers a very pleasant stay to its guests, especially to families with children and those who want an escape from the crowded touristic locations.
We offer three accommodation units – two apartments and a 4-room flat suitable for larger families or groups (up to 8 persons). The apartments and the flat are fully equipped (air-conditioning, internet connectivity), each has its own balcony and a terrace looking towards the sea, a private parking place and a separate storage room.
A beautiful and spacious garden in front of the house (also looking towards the sea) is suitable both for a quiet rest during the day as well as for socializing around the barbecue.
Please take a look for yourself and make your decision, we are looking forward to seeing you!
Best regards,
your hosts